IDM Registration to be IDM FULL


| IDM | Clean IDM from Windows registry | Download IDM | Editing IDM in Windows Registry |
| IDM Indonesia | Integrate IDM | Registering IDM | IDM Settings |
| IDM Panel Settings | IDM FAQs | Uninstall IDM | IDM settings for Youtube |

How to change or upgrade/upgrade IDM free (IDM trial) to full version IDM is very easy. After placing an order and payment, the user will get an email containing a special link to download full IDM and the original original IDM/IDM serial number
Before activating the IDM serial number, please note the following:
Download IDM uses special links provided in e-mail, or IDM downloads from IDM's official website, DO NOT use IDM downloads from other websites
If you have installed IDM on a computer that is either pirated or a trial one, DO NOT CLOSE. UNINSTALL first clean, do not have any trace of the remaining IDM included in the computer registry, delete it until it is completely clean. How to uninstall IDM completely click here . After clearing the old IDM program, then install the new IDM.
After the IDM program is installed properly, the next step is register IDM by using IDM Serial Numbers that have been purchased. Way register IDM by activating the License Key/IDM Serial Number given, follow the steps as follows:
Run the IDM program, in the IDM main menu click the menu Registration- > Registration. If the menu is disabled (gray, cannot be clicked), it means already registered. If the menu is disabled before you enter a serial number, chances are that the IDM that was installed before contains cracks, so that in your computer registry it still contains IDM even though the IDM has been uninstalled, so your computer registry must be cleaned from IDM first. How to clean IDM in the registry click here


Note: In this picture the IDM version 5.09 is only for example, the one purchased from ViooMax is the latest version


The registration form appears as shown below




Fill in First Name, Last Name, Email on the respective form


Open the email from ViooMax and find the Serial Number. IDM S/N consists of 16 numbers with xxxx-xxxx-xxxx-xxx format then copy




Paste the Serial Number that has been copied into the form Serial Number



Click OK


A window appears like the one below




To check whether the registration was successful, click the menu HELP > ABOUT dialog appears as shown above. Check if there is writing FULL and what is the name under " This product is licensed to " already matches the name registered. If appropriate, registration has been successful.


Finish
For Windows Vista users, run IDM with permission as administrator. Exit IDM (use Tasks > Exit). Right-click on IDM icon in the Windows program select " Run as administrator &quot ;. Then register IDM as above. Exit IDM then open again.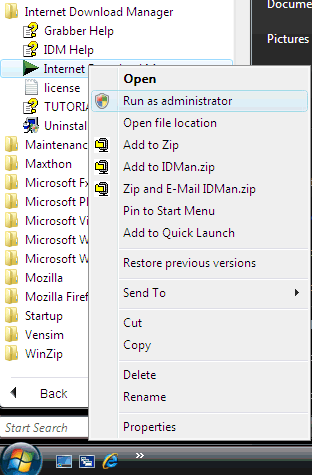 | IDM | Clean IDM from Windows registry | Download IDM | Editing IDM in Windows Registry |
| IDM Indonesia | Integrate IDM | Registering IDM | IDM Settings |
| IDM Panel Settings | IDM FAQs | Uninstall IDM | IDM settings for Youtube |